Funding boost for Cumbria's Military Museum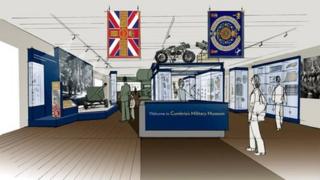 The £1.6m redevelopment of Cumbria's Military Museum has received a further funding boost.
A £30,000 donation from the Sir John Fisher Foundation is the latest for the project, which involves the relocation of the attraction within Carlisle Castle.
Housed on two floors of Queen Mary's Tower, the museum is to be rehomed in the nearby Alma block.
It tells the 300-year story of military units in Cumbria.
Current displays include uniforms, weapons, medals and equipment, but the museum's new home will be three times bigger.
Napoleonic drums
Among key attractions will be a restored World War Two Waco CG-4 glider and jeep.
Curator Stewart Eastwood said: "The museum is important for us because it's the story of the Border Regiment and King's Own Royal Border Regiment as well as other units of the Army from the 18th Century to the present day.
"Collections are wide-ranging - we have everything from Victoria Cross medals to drums captured from Napoleon's army."
The Sir John Fisher Foundation is a Cumbrian-based charitable trust.
Last year the museum received £1.43m from the Heritage Lottery Fund towards the redevelopment. Work on its new home is expected to be complete by April.