Sellafield appeal over £700,000 waste fine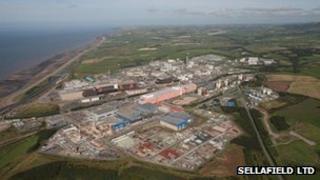 Operators of Cumbria's Sellafield nuclear reprocessing plant have asked the Court of Appeal to cut a £700,000 fine over wrongly dumped waste.
Sellafield Ltd was fined at Carlisle Crown Court in June after admitting sending bags of radioactive waste to a landfill site.
The bags should have gone to a special facility, but some ended up at the Lillyhall landfill site in Workington.
Lawyers for the company claim the fine is "manifestly excessive".
In June, Sellafield Ltd said it found the error was caused by the wrong configuration of a new monitor, which passed the bags as "general" waste, making them exempt from strict disposal controls.
The bags, which contained plastic, tissues and clothing, were later retrieved and returned to the plant for correct disposal.
Richard Matthews QC told the Lord Chief Justice Lord Thomas, Mr Justice Mitting and Mrs Justice Thirlwall that the fine was "manifestly excessive", given that there was a negligible risk of any harm and no other features which would warrant a fine of such magnitude.
He said it was not a "deliberate or reckless offence", but one of limited negligence and did not call for a deterrent element.
Mr Matthews added that a "great many measures" had been put in place by the company following the prosecution.
He also stressed that a huge proportion of the firm's annual income is the £1.6bn of state funding it receives - which is for "clean-up and dealing with nuclear legacy" and does not contribute towards the annual profit of £31m.
The judges said they would give their decisions on the contested appeal at a later date.