Cumbria Police dog unit 'desperate' for empty buildings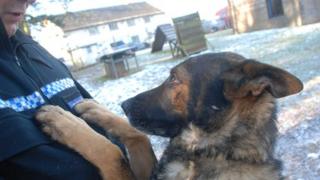 Empty buildings that could be used to train police dogs are being sought by the "desperate" Cumbria force.
The dog unit has to quit the premises it is currently using, as the former school is due to be renovated.
Houses, shops, commercial properties, yards, or smallholdings are needed to help hone the animals' crime-fighting skills.
Buildings such as disused schools or nursing homes would be particularly beneficial, a police spokesman said.
The force's general purpose dogs - German Shepherds or Malinois - are used for crowd control, to search buildings and open spaces, and to locate and detain suspects.
Training starts when they are puppies and they are exposed to as many new people, places and experiences as possible.
'Firework noises'
Sgt Mark Yielder, from the dog unit, said: "We spend a lot more time playing with the dogs than you would a family pet.
"But rather than fluffy animals and balls, they have sets of keys and tools as toys, so that they get used to the kinds of materials and objects they will be expected to search for at crime scenes in the future.
"They are also exposed to loud noises by playing recordings of thunder, lightning and firework noises on a stereo so that they get used to the unexpected, and grow into bold working dogs."
Empty premises are used to replicate crime situations.
PC Stuart Woodward from the dog unit said: "We are absolutely desperate at the moment.
"Previously we used an old school at Harraby, which has now been demolished.
"Now it is an old school in Kirkby Lonsdale, which is due to be renovated in the next couple of weeks.
"We want our dogs to be top notch and can't do that without the training and venues."