Penrith flood-risk incident room opens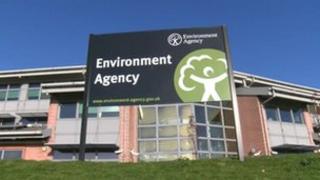 An incident room to help predict the risk of flooding in Cumbria has opened.
Built at the Environment Agency's office in Penrith, it aims ensure the agency is "better prepared" to manage flooding in the county.
The office will be used to monitor river levels and issue warnings to people of potential risks.
The agency said the "most important" thing it could do was to prepare for the "devastation" that flooding can cause.
Flood risk manager Andy Brown said: "As everybody knows we've had lots of flooding incidents here in Cumbria and we found ourselves really crammed into our incident room here [in Penrith].
"It did endanger the service we were going to provide at times and we were really keen to invest the space here and expand it.
"It has enabled us to secure a first-class service that we can provide to the community in Cumbria in the future."
The county has had about 100 flood alerts during 2013.