Leisure complex to be built in Workington town centre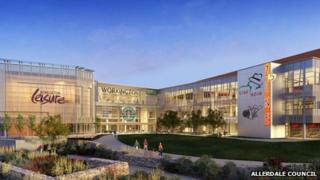 A site for a new, £9m leisure centre in a Cumbrian town has been chosen.
The 40-year-old crumbling complex in Moorclose, Workington, is to be demolished because it is no longer fit for purpose, Allerdale Council said.
But instead of building its replacement on the same site, a more central location has been chosen in Brow Top, after a public consultation.
The council confirmed the new complex would have a sports hall and swimming pool and would open in 2015.
Private investors will also be sought to build an entertainment complex with a cinema, shops and restaurants on the site, a council spokesman said.