From Morecambe to MoMA: New York showing for Ten Thousand Waves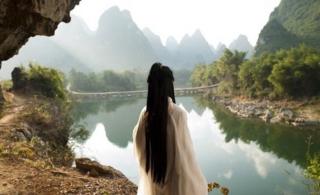 It is almost 10 years since the deaths of 23 Chinese cockle-pickers at Morecambe Bay made international headlines. Now an installation by artist Isaac Julien is on show at New York's Museum of Modern Art. But what does the piece have to say about the tragedy and the attitudes towards those who perished?
As darkness descended, fierce winds howled and tore at their clothes. In unforgiving waters, 23 men and women fighting to harvest cockles for criminal gangmasters at Morecambe Bay on England's North West coast drowned on a flooded sandbank.
The news shocked people across the globe, but now almost a decade on from that night, their story is the inspiration behind a 55-minute film on show thousands of miles away at New York's Museum of Modern Art (MoMA).
Alongside video footage of the raging storm and extracts taken from emergency calls, Isaac Julien's Ten Thousand Waves weaves together stories set in the glistening modern-day metropolis of Shanghai with others drawn from ancient myths.
'Better times'
"They had travelled such a huge distance to eke out a living, but they came to their end in an unforgiving sea," said Julien.
"I was really moved by that. I'm very sympathetic to people who travel to find a new life. It's natural for anyone to want to do."
Having followed the news reports in the days and weeks after the tragedy, the Londoner set about researching the plight of the workers who, in the words of Mr Justice Henriques, had been "cynically and callously" exploited by gangmaster Lin Liang Ren.
A first visit to Morecambe was made in 2006. Several more followed.
"It was important to go. I went for a walk when the tide was out, but the water comes in incredibly fast," he added.
"You feel it's a space that has seen better times."
There were also trips to China's Fujian Province - home to the cockle-pickers and where a fable encompassing the goddess Mazu leading fishermen to safety originated hundreds of years before.
Already compiling an 18-minute film called Western Union: Small Boats - which explores the stories of those escaping wars and famine in Libya by fleeing across the Mediterranean - the theme of migration was one Julien was immersed in.
It was important, the Turner Prize-nominated artist said, "to go beyond a news story moment and look at the movement of people".
'Branding people'
"It's not going to go away whether people like it or not," he added, before referring to the thousands of North Africans desperately struggling to reach the tiny Italian island of Lampedusa in search of a better life.
"How many people have to die across the Mediterranean Sea and how civilised is Europe in its pursuit of certain social qualities?"
Ten Thousand Waves also features a tale of 16th century fishermen adrift at sea and a ghostly, mystical presence.
So does the 53-year-old see parallels between the film and his own life?
"Of course. My parents came to England from the Caribbean in the 1950s in search of a better life.
"They were seen as immigrants. I have a certain sympathy for that position. We brand them in a not very nice way."
For St Martin's School of Art graduate Julien, the film is partly a reaction to the way the issue of migration is framed by governments and the media.
"People think they can just wish it away by creating processes that are draconian or engineering a moral panic, but these issues are global," he said.
Over three years, Ten Thousand Waves has been taken across the globe. Following its premiere in Sydney, Australia, it was shown in Shanghai to tie in with the Expo 2010 event.
Discovering bodies
The memories of the tragedy are still vivid to those involved in the dramatic rescue operation.
Among them is Lancashire coastguard Chris Turner, who was the duty manager when the emergency call came in.
"It's still at the forefront of my mind. I don't think it will ever leave me," he said.
"The call came in about 21:00 GMT and I remember the confusion around how many people were in the bay. We had reports of up to 50. Then we began discovering the bodies."
Now 51, he said the events of that night proved significant as they shed light on practices that had been largely hidden, and he welcomes any attempt to make sense of the tragedy.
"We didn't know about the Snakeheads, gangmasters and illegal immigration until then," he said. "We didn't know people were living 30 to a house, with no furniture, just mattresses.
"That had been very much underground. It was only after the tragedy we discovered what was happening."
With interest in Ten Thousand Waves strong, exhibitions are lined up in several countries. But there is one place Julien would "love" the installation to be shown - Morecambe.
"Where there's a will, it's possible," he said. "I hope it can."