Sellafield leg amputee worker awarded settlement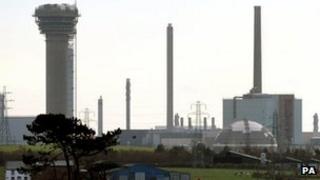 A man has been awarded a seven-figure cash settlement after an accident at a nuclear plant in Cumbria led to part of his leg being amputated.
Kenneth Brown, 64, from Workington, was employed by a contractor at the Sellafield site when another worker hit him with a cherry picker in May 2011.
He sustained "extensive crush injuries" and had to have his left leg amputated above the knee.
The Unite union said the money will "never compensate" for the ordeal.
Mr Brown was working as a mechanical fitter for Johnson Controls Ltd, who admitted failing to ensure the safety of its employees.
Johnson Controls said Mr Brown was "partly to blame" for the accident, but agreed to award him damages.
'No training'
Johnson Controls pleaded guilty of one breach of health and safety legislation.
The HSE said: "The investigation found that Mr Brown and other staff at Johnson Controls had escorted cherry pickers on foot several times a month, for at least 14 months, prior to him being injured.
"The only advice the company gave to its employees when directing cherry pickers was to wear a high visibility waistcoat. No specific training was provided for the task."
The company, of Waterberry Drive, Waterlooville, Hampshire, was fined £65,000 and ordered to pay £8,162 in prosecution costs.
Faye Wingfield from the HSE said: "Kenneth Brown has suffered a terrible injury that will affect him for the rest of his life due to failings of his employer.
"It is questionable whether Johnson Controls actually needed a member of staff on foot to direct the cherry picker, given that it was travelling forwards along a road in a one-way system.
"But if the risk assessment decided someone was needed to escort the vehicle then a safe system of work needed to be devised."
'Improved procedure'
A spokesman for Johnson Controls said: "Johnson Controls has agreed on a settlement with Mr Brown which reflected a degree of personal responsibility.
"The company complied promptly with an improvement notice in respect of its banksman procedure.
"The judge at the hearing commented 'this was not a case of total or reckless disregard for the safety of employees'.
Unite regional secretary Mick Whitley said: "Mr Brown has suffered horrific injuries because his employer ignored fundamental health and safety procedures.
"It is completely unacceptable for an employer to shirk responsibility and try to blame the injured worker in any case.
"I'm pleased we have been successful in securing such a significant level of damages for our member, although this can never compensate for his traumatic ordeal of losing a leg in a workplace accident."
This article was updated on 14 November 2013 to make clear Johnson Controls Ltd pleaded guilty to one charge.