Workington Indorama Polymers plant to be mothballed with 73 job losses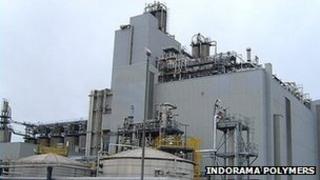 A plastics plant in Cumbria is to be mothballed for at least two years with the loss of up to 73 jobs.
Production is being suspended at the Indorama Polymers plant in Workington, which makes polyethylene terephthalate.
Indorama Ventures Public Company Limited said current market conditions made continued production "untenable" for the site, which opened in 2008.
The company said all 73 employees would be offered redundancy compensation and redeployment "where possible".
The plant is expected to close before March 2014.
Indorama Ventures CEO, Dilip Kumar Agarwal, said the company was unable to find a "profitable solution" to "declining margins" and increased competition from Asia.
"With no respite on the horizon at this time, mothballing the plant is still not an easy decision for any of us but one that needs to be taken to protect from further damages.
"We have great respect and admiration for the people working for Indorama Ventures in Workington.
"These are some of the most experienced and professional employees in the industry and we will try our best to see them placed."
The company said the site may be operated again in two years "subject to market conditions".