Union officials hopeful of saving further jobs at Longtown munitions depot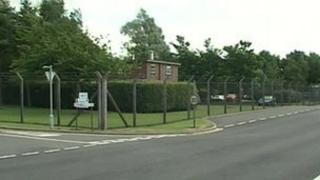 Union officials are still hopeful more jobs can be saved at the Longtown munitions depot in Cumbria, which had been threatened with closure.
Defence Minister Philip Dunne visited the site earlier after announcing last month it will be saved.
Around 180 positions were safeguarded but 53 people are still expected to lose their jobs.
Neil Scott, from the Prospect union, praised the minister but said more needed to be done.
The site's future had been hanging in the balance for a number of years, but its reprieve followed a concerted effort by unions and the region's politicians.
However, despite it remaining open, storage operations will be scaled back.
There are 252 buildings on the site, of which 120 are currently filled with munitions.
The Government is investing £1.1m on a refurbishment as it reduces the number of buildings in use to 35 and Mr Dunne said he hoped private companies will move into the parts of the site vacated by the Ministry of Defence (MoD).
But Prospect believes there should be around 60 buildings in use to make the site "more resilient" and has called for a further £1.2m boost.
However, it welcomed efforts to keep the site open and the bid to attract private firms.
Mr Scott said: "If it creates jobs for the area it's acceptable. Two years ago we were closing.
"The minister has been quite courageous in what he has done, but we need to build on what we've got."
Campaigners had previously estimated closing the depot would cost the local economy £16.3m a year.
The MoD said a decision about the site was needed as its current explosive storage licences would be withdrawn in 2014 and it required investment for continued long-term storage use.