Switch on for 4G service in Cumbria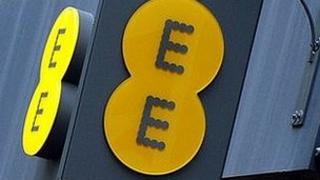 Mobile operator EE has turned on its 4G service in Cumbria, offering superfast broadband to more than 2,000 homes and businesses in the northern fells.
The move follows trials in the Threlkeld area, where users experienced average download speeds of 24Mbps.
The company plans to roll out 4G across the rest of Cumbria (another 100 sq-miles) by March next year.
Experts said the cost of delivering superfast broadband wirelessly was much less than using fibre cables.
Welcoming the switch on, Rural Affairs Minister Dan Rogerson said: "Nothing will have a more spectacular effect on the rural economy than the roll out of superfast broadband and high speed mobile access.
'Frustrating time'
"I don't believe any rural business should be held back because of its location, so it's great that 2,600 Cumbrian homes and businesses are now covered by a superfast network."
EE chief executive Olaf Swantee said: "There is a lot of work to do in 2014 to reach more people and businesses in rural areas.
"But today we have proved that 4G has the capability to connect this country's unconnected [premises], and we intend to continue to be at the forefront of that."
Mal Hilton, chairman of the Northern Fells Broadband Group: "We have been working for the past three years to ensure rural parishes in this area of Cumbria do not miss out on the high speed broadband developments that are taking place across the UK.
"It has been a frustrating time and most commercial companies have demonstrated a complete lack of interest.
"For the residents of the northern fells this is a significant milestone in the journey towards a complete superfast broadband service and one we welcome wholeheartedly."
Packages starting from £25 a month will be available from 6 December.