Taxi driver Richard O'Brien jailed for care home sex attack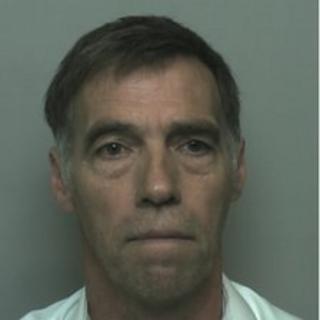 A taxi driver has been jailed for sexually assaulting a 94-year-old woman in a care home.
Richard O'Brien, 58, from Cumbria, was caught on camera abusing his victim after concerns were raised about his regular visits to see her.
Det Cons Carolyn Willacy said a "kind and gentle lady" suffered "degrading assaults over a long period of time".
O'Brien was jailed for two years after admitting three charges of sexual assault and one of fraud.
Police said O'Brien, of Dunmail Drive, Carlisle, marketed his taxi business to pensioners.
Carlisle Crown Court heard his victim told officers she was assaulted almost every time he visited her after gaining access via the retirement home's intercom.
Ms Willacy said the woman could not defend herself due to her "frailty of body and mind".
"O'Brien pleaded not guilty until the morning of trial, which caused further distress to those taking part in the trial," she said.
"There is no excuse for his horrific crimes and the lasting impact they will have on the victim and her family."
O'Brien also withdrew over £4,000 of pension payments following the death of his uncle.
He was placed on the sex offenders register for 10 years.