Newburn floods: More flats to be demolished at Spencer Court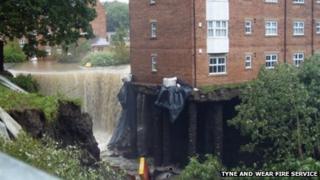 A further block of flats at a flood-hit development in Newcastle is to be demolished, it has been confirmed.
Developer Dunelm Homes said repairing Block B at Spencer Court, Newburn, would risk damaging the adjacent culvert.
It is expected to come down in January following work to stabilise ground beneath three neighbouring blocks.
Other homes had to be knocked down after heavy rain washed away land and foundations in September 2012.
A spokesperson for Dunelm Homes said the company had told leaseholders in August that the the risk that would go with repairing the flats was "too high".
"As the freehold owner of Spencer Court, albeit with great regret, [we have] agreed with advice that Block B cannot be saved."
'Extremely sad'
He said the damage to the building was too great "as a result of the repeated inundations of water resulting from the culvert collapse".
"It is extremely sad that another block of apartments at Spencer Court has become a victim of the catastrophic events."
The developer added grouting - the engineering process to stabilise ground beneath the surface - will begin underneath adjacent blocks A, C and D on 25 November.
Internal repairs on those properties will then be carried out following the demolition of Block B.
The firm said it hoped people would be able to return to their homes around May next year.
Dunelm Homes owns the land on which the homes stand, while the culvert is on land owned by Northumberland Estates.
The housebuilder has previously said it would make a claim for around £3m from Northumberland Estates. Neither company has accepted liability.