Cockermouth Town Council backs plan to cut planning red tape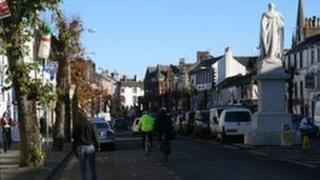 A move to cut planning red tape in a Cumbrian town has been backed by the local council.
The proposed Neighbourhood Development Order could see shops and offices in Cockermouth turned into cafes and restaurants without the need for planning permission.
The scheme could be implemented by next summer if it passes a number of official stages.
Council officials hope the move will help boost trade.
A relaxation of the current planning rules would allow the development of residential flats above shops and offices.
For retailers, the order would grant automatic planning permission for new shop fronts.
The proposed change will be put before the public vote next year in a referendum. If passed, it could be implemented in summer 2014.
Some people in Cockermouth have said they are concerned the move could see too many bars and cafes spring up, changing the character of the town centre.
Georgian character
But councillor Eric Nicholson said: "It will encourage the retention of the original architecture.
"It's a bit like a carrot and stick. If people are prepared to renew their buildings within the context of the Cockermouth Conservation Area Design Guide they'll save by not having to apply for planning permission.
"We would encourage, for example, the use of sliding sash windows in houses and shop fronts to have Georgian-design wooden doors instead of plastic."
The proposal was unanimously approved at the town council meeting on Monday.
Anyone wishing to develop a building in a way outside the area's design guide would still need to apply for planning permission, Mr Nicholson added.