Cumbria Trust created to fight nuclear waste consultation process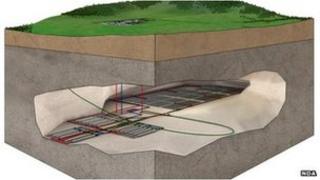 A pressure group has been created to oppose plans for an underground nuclear waste store in Cumbria.
At the start of the year Cumbria County Council voted against taking the proposals any further.
But the government recently announced a new process will begin - enabling district councils to make the decision.
Cumbria Trust says it is outraged the government is excluding the county council in what it calls an "astonishingly undemocratic" process.
Copeland and Allerdale councils have said they are willing to be considered as sites for the waste repository but were overruled by the county council.
'Not fair'
Cumbria Trust is led by former Cumbria County Council leader Eddie Martin, who has come out of retirement, and includes several people who were involved in the "no" side of the Managing Radioactive Waste Safely (MRWS) campaign.
Mr Martin said: "It is not fair that Cumbria should have to go through this process again.
"In January the county council said no to a geological disposal facility and that should have been that.
"The government has now come out with this consultation paper which proposes to eliminate the county council from the decision-making. That is astonishingly undemocratic.
"They are now equating a small district council like Copeland with a big unitary authority like Northumberland or Cornwall.
"You could now have a referendum in Copeland, but you couldn't have one across Cumbria. This is an arrow in the heart of local democracy."
However, Labour MP for Copeland Jamie Reed said: "Cumbria County Council ended the last process. This is a completely new process.
"People [behind Cumbria Trust] have to realise this is precisely what they asked for.
"They said the previous process was too big for a county council to take and they called for a decision to be made at a national level.
"That's what the government is consulting on."