'Bucket list' teen Alice Pyne's family in Kilimanjaro trek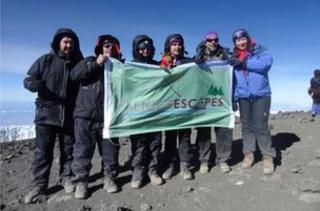 The family of cancer campaigner Alice Pyne have spoken of their pride after scattering her ashes on the summit of Kilimanjaro.
The 17-year-old from Ulverston, south Cumbria, died in January from Hodgkin's lymphoma.
Diagnosed at the age of 13, she published an online "bucket list" in 2011.
Top of it was her hope that everyone in the UK would sign up as a bone marrow donor.
Now her family have returned home after their trek up Africa's highest mountain, which also raised money for the Alice's Escapes charity that provides holidays for seriously ill children.
Alice's sister, Milly, and mum and dad, Vicky and Simon, were joined on their trip by a team made up of Alice's friends and volunteers.
'Worth it'
The highest free-standing mountain in the world at 19,340ft (5,895m) , thanks to the wind-chill factor the team braved temperatures as low as -20C.
Milly said: I'm feeling very proud but also really tired. It was really hard work but it was worth it.
"It felt good because I knew she would be proud of all of Team Alice."
Vicky did not reach the summit after being forced to turn back when one of the team became ill at 4,400 metres.
She said: "Alice had on her bucket list to visit Africa and go on safari. I think when she knew she was terminal and knew she wouldn't make it out there the next thing was planning where we would scatter her ashes."
After reaching the summit on Thursday, the team returned home and received a further boost on Monday when the charity was named the biggest winner at the annual Barrow to Keswick charity walk awards ceremony.
Alice's Escapes was handed a cheque for £30,000 after 140 people took on the 40-mile walk in aid of the charity in May.
The money will be used to buy a second fully adapted caravan to be used by families in the south Lakes.
Alice and Milly were awarded the British Empire Medal last year for their charity efforts.
More than 40,000 people are known to have signed up as donors as a direct result of the campaign.
Among the wishes ticked off her bucket list, Alice met Take That and went whale watching.