Longtown munitions depot to stay open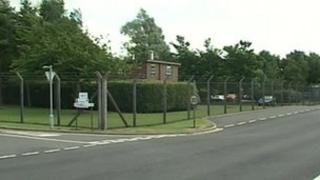 A munitions depot in Cumbria threatened with closure is to stay open, the Ministry of Defence (MoD) has confirmed.
The site at Longtown had been under threat for several years, but the MoD will now invest £1m and safeguard 180 jobs.
About 50 staff will be made redundant. Neil Scott from the Prospect union said it was mixed news.
Conservative MP Rory Stewart said years of "worry and uncertainty" were over.
Production will be scaled back but Mr Stewart said commercial deals were also being discussed to secure more work.
"Longtown fulfils an invaluable role, not only to our defence systems nationally, but to the local economy," the Penrith and the Border MP said.
Defence minister Philip Dunne is expected to visit Longtown next month to speak to trade union representatives.
He said he was pleased a "solution" had been found.
Mr Scott said the union was happy the site would stay open but "deeply concerned" at the number of job losses which would be "devastating" to those involved.