Walney School bug bites: Council finds no turf roof link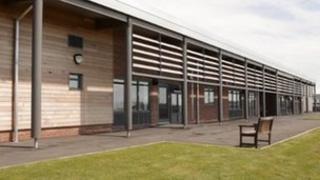 No link has been proven between a school's turf roof and bites suffered by students and teachers, according to Cumbria County Council.
Walney School in Barrow-in-Furness was forced to close last month after about 40 people were bitten and bugs were found in a the roof of a new £6m extension.
The council said insects had entered via a ventilation system.
A new roof maintenance plan will be introduced, the council said.
Measures will be taken to stop gulls from nesting or roosting on the building.
An announcement on the reopening of the extension is expected shortly once classrooms have been fumigated.
Lessons are taking place in the school's old building.
In a statement, the council said: "Investigations into the cause of the insect bites experienced by around 40 pupils and teachers over recent weeks have not proven a link with the turf roof covering of the new extension.
"However, insects normally found on a sedum roof have entered the new extension via the passive ventilation system."
A report by Public Health England had identified the roof as one "plausible source" of the problem, but the council was unable to find any similar buildings that had been affected.