Whitehaven Festival 2014 cancelled for harbour revamp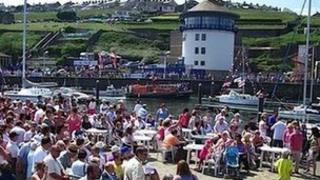 An annual music and theatre festival that attracts more than 200,000 visitors to a Cumbrian town has been cancelled for 2014.
Organisers said the Whitehaven Festival was on hold to make way for the town's harbour to be assessed for a revamp.
Gerard Richardson, chief executive officer of Whitehaven Festival Company, said the event would return in 2015.
The live music festival has run since 1998 and also features street theatre, visiting ships, air shows and markets.
'Good news due'
In recent years, the three-day event has expanded, attracting acts such as McFly and Slade.
Mr Richardson said: "We were hoping to be able to announce a series of other events for next year at the same time as making this announcement but we're still not able to do so and, as lots of people have been pressing for dates, we can only report that the event is off.
"It's been known to us for some time that various parts of the harbour are earmarked for development and we decided to make 2014 the year we stop the major event while we take stock of the available space for the future.
"Apologies that it's bad news but there is plenty of good news due in the near future."