Rugby League World Cup: Workington ready for spotlight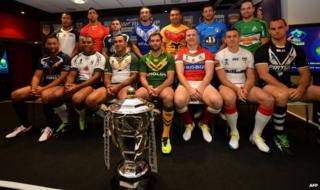 The Rugby League World Cup is being played at world famous stadiums, but organisers also chose lesser-known venues in a bid to grow the game and deliver a lasting legacy for the sport. So how is the Cumbrian town of Workington getting ready for its moment in the sporting spotlight?
"Proud to be a host for the Rugby League World Cup," declares one of the colourful banners hanging high.
As the big kick-off approaches, excitement has been building in the competition's most northerly outpost - Workington.
While a spectacular opening ceremony and an enticing double-header got the tournament under way at Cardiff's Millennium Stadium on Saturday, 320 miles away the west Cumbrian town is getting ready for its moment in the sun.
Capitalising on the production of iron, steel and coal, it was once a powerhouse of heavy industry - and the rail lines forged in its mills were said by locals to "hold the world together".
However, with their demise came a struggle to attract investment and create jobs, and in recent years western areas of Workington, such as North Side, Moss Bay and Salterbeck, were named among the most deprived areas in England.
It suffered a further blow four years ago when heavy floods devastated parts of the town - making national headlines following the death of 44-year-old PC Bill Barker as the Northside Bridge collapsed.
But while it has faced many obstacles in recent times, its love of rugby league has remained strong - and it is hoped the World Cup will bring a welcome boost to the town's 25,000 inhabitants and west Cumbria generally.
Home to Workington Town, a side competing in the game's second tier, Derwent Park is an altogether more modest setting than Wembley, Old Trafford and the Millennium Stadium.
'Rugby league heartland'
While it has only 1,200 seats and terracing for a few thousand more spectators, it will nonetheless welcome enthusiastic and knowledgeable crowds with a passion for the sport.
"This is a rugby league heartland. People here are barmy about it," said Alan Smith, leader of Allerdale Borough Council.
"It was unthinkable that this international celebration of world-class sport could take place in England without some of the matches being held in west Cumbria."
The tournament will see games held in 20 towns and cities across England, Wales, Ireland and France.
Having hosted Aotearoa Maori versus Samoa in the 2000 Rugby League World Cup, this time Derwent Park was staging Group C face-offs between Scotland and Tonga on Tuesday and Scotland and Italy on 3 November.
Workington stepped in to host the games in July 2012 when neighbouring Whitehaven withdrew over renovation issues at its ground.
Funding of £350,000 was secured for a stadium facelift. Grandstand seating was improved, floodlights were updated and an electronic scoreboard was fitted, with the work carried out by a firm of Workington contractors.
To celebrate host status and involve the community, a number of events have been lined up including a torch lit march to the match from the town centre later followed by a firework display and a performance by West Cumbria's RLWC Choir.
A World Cup song has been written by Keswick composer Russell Burbush to be performed at the matches.
But aside from benefiting the local rugby club, will the matches help the town itself?
"They've sold 6,000 tickets for both of the matches, so you would hope a good number of those people will be spending money in the town," said Keith Wild, general manager of Workington's Washington Central Hotel where the Scotland team is staying.
"We're delighted to be hosting the 35-40 members of the squad. They arrived on Saturday and will depart on 5 November when they travel to Manchester for a game there, so that is great for the hotel."
Pub talk
It is a similar story elsewhere in the town.
"We've had to turn a lot of people away because we're fully booked," said Angela Bell, who owns the 11-bedroom Green Dragon Hotel in Portland Square with her husband Stephen.
"I expect most of the hotels in the town will be in the same position."
For Mrs Bell, who also owns The Well pub in Jane Street, the World Cup puts Workington firmly in the spotlight.
"Customers are talking about it in the bar and they are excited," she says.
"Any event is good for the town because it puts us on the map.
"Sometimes people don't see Workington in a positive light or, like many towns, people from elsewhere might not know a lot about the area.
"But we are proud to be hosting the World Cup and we want everyone to see what a nice little place Workington is."
Allerdale Borough Council estimates a potential boost of more than £500,000 from fans spending money in shops, on food and drink, and on hotels.
However, hosting the World Cup clashes is not just about a short-term lift - tourism chiefs are bidding to increase visitor numbers by promoting west Cumbria as a base from which to enjoy local attractions as well as the majestic landscapes of the Lake District half an hour away.
"People will spend a lot of money on food and drink while they are here, which is a big part of the visitor economy," said Katie Read, West Cumbria Tourism destination manager.
"But they will also visit attractions in the area. International events like this are so important because they can help change perceptions.
"So it is about creating memories and a love affair with the Western Lake District as that will encourage people to return and to tell others about it."