No charges over Richard Rhodes expenses leak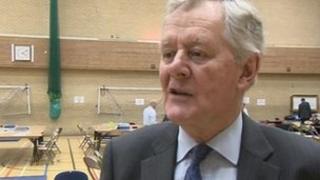 A woman arrested over the alleged leaking of expenses claims by Cumbria's police and crime commissioner (PCC) will face no criminal action.
The 50-year-old woman, who works for Cumbria Police, was arrested in April after PCC Richard Rhodes used a chauffeur-driven car costing £700.
Two men aged 47 and 59 who also worked for the force were told they would face no further action in May.
Details of Mr Rhodes' expenses were leaked to a local newspaper.
He apologised for "mistakes" in failing to check costs before hiring a chauffeur-driven Mercedes to go to two evening engagements.
The 50-year-old woman was arrested on suspicion of data protection offences and misconduct in a public office.
'Whistleblowers not criminals'
She remains suspended and the force said a misconduct investigation will now take place in relation to any internal breach of the code of conduct.
"Cumbria Constabulary's staff and police officers have a duty to protect and manage the information they have privileged access to," the force said in a statement.
"Any allegations relating to a breach of this position need to be investigated to ensure our communities can have trust and confidence in the way we deliver policing in the county."
Westmorland and Lonsdale MP Tim Farron said questions needed to be asked about the use of resources on the investigation.
The Liberal Democrat MP said: "This is good news and vindicates what I and others have been saying for months - that these people are whistleblowers and not criminals."
Mr Rhodes said: "The chief constable is in charge of operational matters.
"The PCC has no authority to intervene."