Esthwaite Water, one of Wordsworth's favourite lakes, up for sale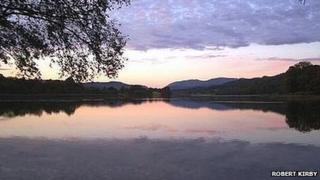 A lake that inspired William Wordsworth and Beatrix Potter is being put up for sale on eBay.
Esthwaite Water, between Windermere and Coniston, is the largest privately owned lake in the Lake District.
Owner Nigel Woodhouse is selling the 280-acre lake and its established leisure businesses, due to his approaching retirement age.
The listed price of £300,000 includes the lease, and its Victorian boathouse, fisherman's lodge, and shop.
Mr Woodhouse said the lease had 13 years remaining.
Wordsworth featured Esthwaite Water in his Lyrical Ballads, and Potter, the creator of Peter Rabbit and Jeremy Fisher, described it as her favourite lake.
'Huge potential'
The seller notes describe it as a "once-in-a-lifetime opportunity".
"It is the largest stocked fishing lake in the north-west region, with significant winter trading.
"Home to Jeremy Fisher, with a licensed Beatrix Potter nature trail, and huge potential to capitalise on the well-established Beatrix Potter market."
The owner said he hoped that advertising online would attract international interest from potential buyers.
However, Richard Greenwood, head of policy and research at Cumbria Tourism, said: "It's a bit of a one off, isn't it?
"I've heard of houses in the lakes being raffled but never a lake being sold on eBay.
"So, I have no idea quite what reaction that's going to get.
"I think it's probably of more interest to the local people."