Cumbria County Council cuts threaten more than 600 jobs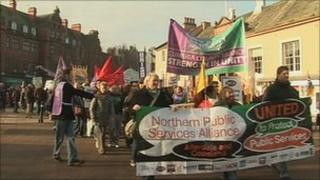 More than 600 jobs may be axed at Cumbria County Council as it faces making cuts of £80m over three years.
Government cuts mean the council has to save the cash by 2017, on top of the £88m already saved since 2010.
The council said at this stage it cannot give a precise figure, but redundancies are expected to be "in excess" of 600.
A spokesman said it was a time for "tough decisions", but the council must protect its "most vital" services.
Since 2010, there have been 742 redundancies at the council, of which 660 were voluntary redundancies and 82 compulsory.
Council deputy leader Jo Stephenson, said: "The government is taking a big bite out of our budget as part of its efforts to balance the nation's books.
"This is a time for tough decisions, and making difficult choices about what is really important."
'Protecting the vulnerable'
People in the county are being asked by the council to consider an option of increasing council tax by 2%, which would be an annual increase of £23.23 on a Band D property.
This would reduce the level of savings required in 2014/15, to £22.6m instead of the full £24.4m.
"We must remember what we aren't cutting back on - protecting what we consider to be the most vital services and the most vulnerable service users," said Mr Stephenson.
"The organisation is going to be smaller as it concentrates on its core priorities and we will be supporting our staff through a difficult period of change and using voluntary redundancy wherever possible."
The council has put forward a set of 35 savings propositions for public consultation, which include protecting and modernising front-line services by freeing up more back-office savings.
The consultation runs until 20 January.