Homes plan for Ambleside's Fisherbeck Park blocked by neighbours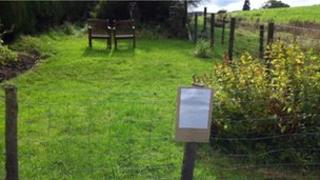 A project to build housing association properties in the Lake District has been blocked after neighbouring owners opposed to the scheme bought the land.
Two Castles Housing had planning permission for 11 homes in Ambleside to be rented to local people.
But the company said it was in the final stages of negotiations when it was told the land had been sold.
It has been bought by Fisherbeck Park residents who intend to "preserve the countryside of the Lake District".
The Fisherbeck Park estate is a sought-after area with modern dormer bungalows on a hillside overlooking the southern end of Ambleside. Many are second or holiday homes.
'Act of vandalism'
Solicitors Davenport & Scott acted for the residents and the firm's Nick Davenport said: "My clients understood that despite there being planning permission for development there were practical difficulties related to it.
"They also understand that there were extensive objections to the original planning permission from local bodies including Friends of the Lake District and one described it as 'an act of vandalism'.
"My clients would like to emphasise their intention is to preserve the countryside of the Lake District in this prominent and highly visible location."
'Much-needed'
There were objections from Fisherbeck Park at the time planning permission was granted relating to the capacity of the sewers and whether housing was right or necessary to on the edge of the village.
Rob Brittain, property services director at Two Castles Housing Association, said: "We are incredibly disappointed that this opportunity for much-needed affordable housing for local people in the area has been blocked in this way.
"And we hope that local people and their families in housing need do not lose out as a result."