Furness General Hospital dementia care 25% staff rise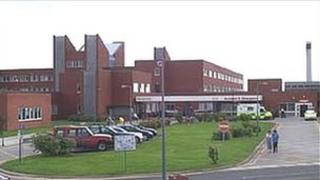 The number of staff at a dementia care unit has been increased by 25% after it was criticised by an NHS watchdog.
The Ramsey Unit at Furness General Hospital had 28 staff when the Care Quality Commission (CQC) was concerned at staff numbers after a routine check.
The Cumbria Partnership NHS Foundation Trust said it has filled seven full time positions since Friday when the unit suspended new admissions.
It added that two additional posts will also be advertised.
Dr Sarah Munro, the deputy director of nursing at the trust, said: "We've not yet begun to investigate why we're in the position we're in.
"Our priority has been to make sure we've got the right staff in place now and to make sure we've got the right staffing numbers and skill mix of nursing and medical staff to meet the needs of patients we've got on the units."
Claire Molloy, the trust's chief executive, previously told the BBC the unit was "stretched".
The trust said details of the CQC's report had not yet been released but are expected in a "few weeks".
The multimillion-pound unit opened in 2012 and cares for patients whose dementia is causing significant problems, such as aggressive behaviour.