Husband of Janet Richardson criticises rescue bid at inquest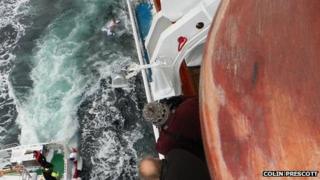 A coroner has called on Norwegian rescue services to review their procedures following the inquest into the death of a Cumbrian woman.
Janet Richardson, 72, was plunged into the Arctic Ocean while being transferred from a cruise ship to a lifeboat after falling ill on a trip to see the Northern Lights.
Mrs Richardson died three weeks after the rescue attempt in March 2011.
Coroner David Roberts recorded a narrative verdict.
The inquest at Carlisle Coroner's Court heard how Mrs Richardson, from Ousby, near Penrith, died from her underlying health problems.
Mr Roberts said evidence from the pathologist suggested that "on the balance of probabilities the accidental plunge into the sea accelerated her death".
He said that, while the death was not accidental, he did not believe there had been neglect.
'Appeared botched'
The coroner pointed out that Mrs Richardson had not been wearing a life jacket, the boats had not been tethered together and the stretcher had not been attached to anything.
After the verdict, eyewitness Colin Prescott said: "It just appeared botched.
"The vessel was manoeuvring backwards, forwards and there was a lot of shouting. It just didn't look professional at all."
Mrs Richardson was moved from the cruise liner when the ship's doctor decided she needed to be taken ashore for treatment for internal bleeding.
Rescue crews dropped Mrs Richardson as the two vessels moved apart.
Her husband George told the hearing he could not understand why they were not tied together.
In his evidence, Mr Richardson said his wife had been in good health leading up to the cruise from Hull to Norway.
The retired farmer said he saw the hands of those holding the stretcher "flip up" as Mrs Richardson fell against the side of the ship.
Mr Roberts confirmed he would write to the Norwegian authorities and the cruise operator advising them to review their procedures for ship-to-ship transfers.