Mountain rescue teams admit their recruitment fears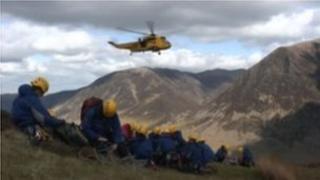 Mountain rescue teams in Cumbria say they are struggling to recruit members.
Of the 12 groups in the county, a number of them have expressed worry that they cannot attract new volunteers.
Pressure on the teams is increasing. In the first six months of 2003 they responded to 188 incidents.
But from January to June this year the figure had risen to 236 - an increase of 26%. Twelve people have died on the fells this year.
A spokesman for Wasdale Mountain Rescue Team in the western lakes said: "Over the last 10 years the callouts for the team have significantly risen and nobody is getting any younger.
"In the very near future team members are going to start to retire and there is a lot of experience that we don't want to lose, so we are trying to recruit to get younger blood in to ensure the skills and experience of the older generation is passed down."
Mike Nixon, formerly of the Keswick team, took part in his final rescue operation just last year.
Until he retired he was the oldest active rescuer in Cumbria, aged 85.
Some groups, such as Cockermouth's, have turned to social media in an effort to attract people.