First Newton Rigg College calf since foot-and-mouth crisis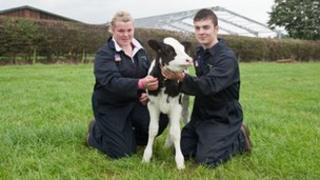 Staff at an agricultural college said the birth of its first calf since its herd was wiped out by foot-and-mouth disease was a "significant milestone".
More than 6m animals were slaughtered in the 2001 crisis that is estimated to have cost the UK up to £8bn, with Cumbria worst-hit.
The herd at Newton Rigg College, which opened in 1896, was destroyed.
Staff said the new calf was an important symbol for the college and farming community.
North Yorkshire's Askham Bryan College took over providing further education courses at Newton Rigg from the University of Cumbria in 2011, securing the Penrith site's future.
'Tragic time'
At that point the decision was made to replace the herd and Belle was the first female milking heifer to be born to it.
Matt Bagley, head of agriculture at the college, said: "It was a tragic, tragic time for agriculture nationally and locally.
"To get [the herd] back is a huge thing for the college itself and the local community."
He said the birth of the calf was a "symbol that we are here to stay and we are back in business" and to have both the college and herd thriving was important for it and the community.
A £2m commercial dairy is being built at the campus, which will house 36 cows and provide hands-on experience for students.
The new facilities are expected to be completed by the end of the year.