Sea fall accelerated death, Janet Richardson inquest hears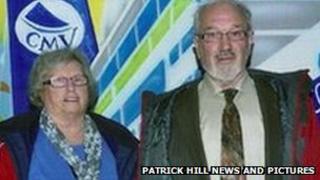 The death of a woman who became ill on board a cruise ship was "accelerated" when she plunged into the sea while being transferred to a lifeboat, an inquest has heard.
Janet Richardson from Cumbria was dropped into the icy Arctic Ocean.
The 72-year-old almost drowned during the fall off the coast of Norway in April 2011, pathologist Alison Armour told the inquest.
Mrs Richardson later died at the Cumberland Infirmary in Carlisle.
She had been in the water for a number of minutes after being dropped while on a stretcher, the inquest heard.
'Abject panic'
"This lady was not in the best of health and suffered from significant natural diseases," the pathologist said.
"However, as she was being transferred from the cruise ship she was dropped into the icy waters and suffered from a near-drowning.
"I have no doubt that this incident was a significant contributory factor in her death."
The pathologist added she believed the fall "accelerated this lady's demise".
Dr Armour said Mrs Richardson died of her underlying health problems, which included kidney and liver issues.
Mrs Richardson was suffering from internal bleeding while travelling to Norway from Hull on a Northern Lights cruise with her husband George and it was decided she needed hospital treatment.
Fellow passenger Colin Prescott told the inquest there was "abject panic" when Mrs Richardson fell into the water.
"The stretcher came down the side of the cruise ship like a hinge because they did not keep hold of it," he said.
"The stretcher slid vertically down into the water. As it entered the water there was separation. The pillow went in one direction, the stretcher kept on going down and the blanket went in the opposite direction."
The hearing at Carlisle Coroner's Court continues.