Furness General Hospital dementia care unit to get more staff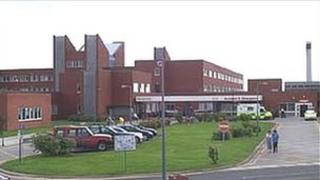 The number of staff at a dementia care unit at a hospital in Cumbria will be increased after it was criticised by an NHS watchdog.
The Ramsey Unit at Furness General Hospital suspended new admissions after a routine check by the Care Quality Commission (CQC).
The Cumbria Partnership NHS Foundation Trust said details of the results had not yet been released.
However, it said the main concern related to staffing levels.
The multimillion-pound unit, opened in 2012, cares for patients whose dementia is causing significant problems, such as aggressive behaviour.
'Upset and disappointed'
The trust suspended new admissions to the unit on Friday and is set to increase the staffing levels to "improve the quality of care".
Claire Molloy, the trust's chief executive, said: "Their main concern relates to the staffing levels... I would like to stress that it's regarding the staffing levels rather than the quality and experience of the staff.
"We haven't got it right this time and obviously we're really upset and disappointed about that.
"The unit was stretched, they could have had access to more staffing and we need to understand why that wasn't put into place."
She added she had written to all staff and families involved.
The CQC said it will meet with Cumbria County Council "as soon as possible".