Merz Barn ceremony honours 'degenerate' artists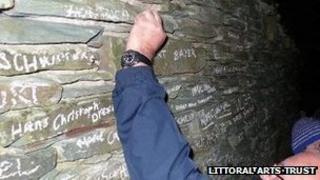 A Lake District wood is to play host to a ceremony honouring German and other artists persecuted by the Nazis.
When Hitler came to power, contemporary art was suppressed and the so-called "degenerate" artists who produced it imprisoned or forced into exile.
One of them, Kurt Schwitters, settled in Cumbria, where his Elterwater workshop - the Merz Barn - is now a work of art in its own right.
Artists whose works were seized will be remembered at the barn on Saturday.
Schwitters began transforming the interior of his stone workshop - a former gunpowder store - into a modernist work of art, although it was never fully completed.
Vicious ridicule
Decades later a wall of the Merz Barn was removed and is now on display at Newcastle's Hatton Gallery.
Schwitters was relatively unknown when he died in poverty in a hospital in Kendal in 1948, but his work is now cited as an influence by contemporary artists such as Damien Hirst and Antony Gormley.
It is a far cry from 1937, when one of his collages was included in an exhibition in Munich of confiscated works titled Entartete Kunst (degenerate art).
They were advertised as "culture documents of the decadent work of Bolsheviks and Jews", and the press and public, who visited in huge numbers, subjected them to vicious ridicule.
Many of those whose works were on show will be honoured at an informal ceremony on Saturday.
Names including Schwitters, Marc Chagall, Wassily Kandinsky, and Paul Klee, will be chalked on the wall of the Merz Barn.
Modernism 'epi-centre'
This "reading of the names" will be preceded by lectures and events, and followed at midnight by an outdoor screening of Dr Caligari's Cabinet, thought to be one of the inspirations for the Merz Barn.
Organisers, the Littoral Arts Trust, would like to create a permanent museum to Schwitters at the site, which has become something of a place of pilgrimage.
Ian Hunter, from the trust, described it as "at the epicentre of British modernist movement."
The ceremony means it will also be a memorial to other "degenerate" artists.
Mr Hunter said: "The names are chalked onto the wall, and then the Cumbria rain washes them into the ground.
"They become part of the foundations of the Merz Barn."