Lorry driver jailed over A66 soldiers' deaths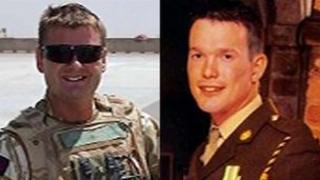 A lorry driver who killed two soldiers in a crash on the A66 in Cumbria has been jailed for 18 months.
Jim Austin and David Gartland were in an Army ambulance which struck a broken-down vehicle and was then hit by the lorry driven by Colin Pattison.
Pattison, 52, had been found guilty at Carlisle Crown Court of causing death by careless driving.
The jury cleared him of the more serious offence of causing their deaths by dangerous driving.
L/Sgt Gartland, 40, and Pte Austin, 24, died when Pattison crashed his lorry, loaded with doors, at 30mph into the back of their Land Rover.
That vehicle had crashed into the trailer of broken-down lorry which was belching thick smoke across the carriageway on the A66 at Stainmore in September 2011.
Pte Austin, from Catterick, North Yorkshire, and L/Sgt Gartland, from Ashton-under-Lyne, Greater Manchester, were returning to Catterick Garrison.
Blinded by smoke
The prosecution said Pattison should have slowed to a crawl, as other drivers did, because smoke reduced visibility to just one or two feet.
But even though Pattison, an HGV driver for more than 30 years, saw the smoke from about 500 yards away he continued driving at normal speed.
The court was told he assumed it was nothing more serious than a stubble fire at the side of the road.
It also heard that Pattison, of Newclose Lane, Goole, East Yorkshire, told police after the crash that driving into the smoke had been "like someone put a bag over my head. It was like someone had just painted the windscreen out white".
Judge Barbara Forrester said Pattison's driving had fallen "not far short of being dangerous" because he failed to slow down even though he could see the smoke from a distance of a quarter of a mile.
As well as being jailed, he was also disqualified from driving for six years.