Heavy metals from Cumbria mine tackled in lagoons pilot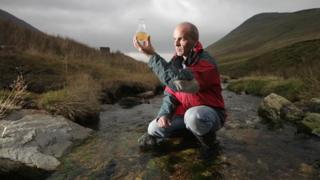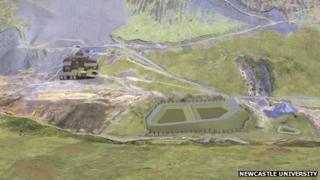 Heavy metals leaching out from former mine workings in Cumbria are being removed as part of a £1m pilot project.
Newcastle University said the scheme being tested at the disused Force Crag mine, west of Keswick, was the first of its size in the UK.
Three tonnes of zinc, cadmium and lead flow into nearby Bassenthwaite Lake every year from the site, it said.
Environment Minister Richard Benyon said the "cutting edge" pilot would reduce pollution without chemicals.
"Vertical flow ponds" will direct water from old mines into former waste lagoons where it will be filtered through compost and limestone, removing the pollutants.
'Far less diverse'
Dr Adam Jarvis, a reader in environmental engineering, said: "Fortunately us humans aren't too sensitive to the effects of zinc pollution but bugs and fish as well, are very sensitive to it.
"As a consequence the Coledale Beck and parts of Newlands Beck are far less diverse than a natural unaffected stream."
The technology has been tested in the past at disused mines in Wales but this is the first time it has been used on a large scale to attempt to clean up a whole river.
If successful it will be extended to treat 4,000km of rivers around England.
The project is funded by the Department of Environment, Food and Rural Affairs in partnership with the Coal Authority, the Environment Agency, the National Trust and Newcastle University.