JWW Allison question Cockermouth hospital pharmacy tendering process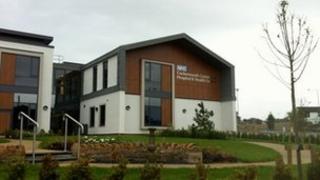 A chemists has applied for a judicial review of the tendering process for a hospital's pharmacy after claiming it was not opened up to competition.
JWW Allison said the lack of process in awarding the contract at Cockermouth's new £11m hospital broke NHS rules.
The company claim consultants acting for Cumbria Primary Care Trust in 2011 had said the process would take place.
Cumbria Clinical Commissioning Group said it was "unable to comment on any specific legal case".
The trust ceased to exist in March, when its functions were transferred to other parts of the NHS.
As a result, the Cockermouth chemists is taking action against several bodies, including NHS England, Community Health Partnership, NHS Property Services and Trinity Pharma Ltd, who were awarded the pharmacy contract.
A spokeswoman for the company said it had requested "information and clarification" over the "apparent absence of a tender process" but the responses were "inadequate".
She said the chemists had been left with "no option" but to apply for a judicial review, which it hoped would lead to an open tender for the contract taking place.
She said NHS rules require a tender process and that European Union law requiring transparency and equal treatment had been breached.
She added that the action would not delay the opening of the hospital, which is expected to open later this year.