Cumbria school bus driver bailed after crash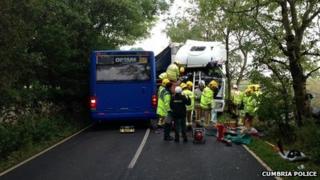 A school bus driver arrested after a crash in which a number of children and adults were hurt has been released on bail.
The collision between the bus and lorry happened on the A685 at Grayrigg on Monday morning.
Six children were taken to hospital along with four adults but none were seriously injured.
The 47-year-old bus driver was arrested on suspicion of dangerous driving.
Cumbria Police said the bus was carrying four adults and 24 pupils aged between 11 and 18.
The road was closed for a number of hours, with the Environment Agency involved cleaning diesel from the road.