Harvest mite infestation closes Walney School in Barrow-in-Furness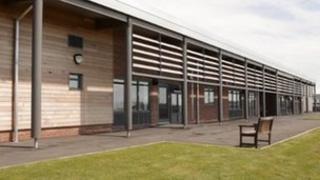 A school in Cumbria will be closed for a "minimum" of three days after it was infested with harvest mites.
Walney School in Barrow-in-Furness closed on Friday after reports a number of students had been bitten.
Acting head teacher Helen Collis said the school, which has 700 pupils, was due to reopen on Monday after it was fumigated at the weekend.
But she said the issue "has not been resolved". It is thought the mites were found in the school's £6m extension.
Mrs Collis said she was due to meet with the local authority to look at how the situation can be resolved.
The "health and care" of the pupils was the priority, she said.