Cumbria school bus driver arrested after crash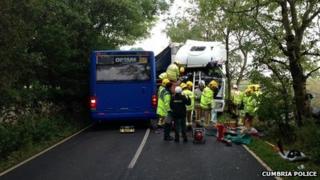 A bus driver has been arrested over a crash in which about 20 people, including children, were hurt.
The collision, involving a school bus and a lorry, happened on the A685 at Grayrigg, near Kendal, at 08:25 BST.
Four adults were taken to hospital with non-life threatening injuries. Six children also needed hospital treatment for minor injuries.
The driver of the school bus, a 47-year-old man, was arrested on suspicion of dangerous driving.
North West Ambulance Service NHS Trust said it had sent five ambulances to the scene.
The 44-year-old HGV driver was removed from the cabin by emergency services and airlifted to Preston Hospital.
Cumbria Police said the bus was carrying four adults and 24 school children aged between 11 and 18.
A spokesman said: "It could have been a lot worse.
"Obviously when you've got vehicles with multiple passengers there's always the potential for serious injuries, maybe even death.
"Fortunately on this occasion it would appear we've come out on a better side than you can do at times."
The road was closed for several hours to allow accident investigators access to the scene.