Cumbria freshwater rare mussels fish hope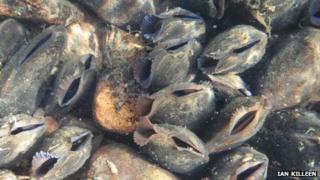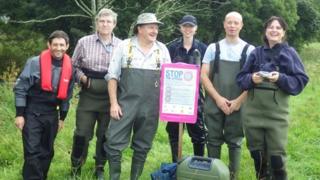 Conservationists are giving a helping hand to west Cumbria's freshwater pearl mussel population.
The River Ehen is home to the largest viable colony in England, but it is an aging one with declining numbers and there are fears it could die out.
The crustaceans are dependent on host fish as part of their life cycle.
Millions of larvae have been artificially introduced to young salmon which have then been released into the River Ehen.
Mussel larvae attach themselves to the salmon's gills where they live and grow for their first few months of their life.
They cause no harm to their host, and drop off and bury themselves in suitable riverbed where they grow slowly and can live for more than 100 years.
The project was a joint initiative by West Cumbria Rivers Trust (WCRT) and the Environment Agency.
Diane O'Leary, from WCRT, said: "We hope that it is a big step to increasing the numbers of juvenile mussels surviving in the River Ehen.
"Mussels are essential to the river ecosystem. They are indicators of excellent water quality and they help to maintain suitable environmental conditions for other species, such as salmon and trout."