'Record award' of £700,000 funds firm's development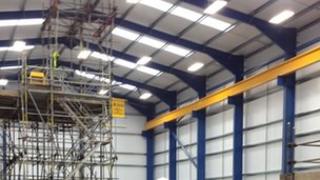 A "record" grant of £700,000 will pay for a "major expansion" and help create 70 jobs, a Cumbrian manufacturing company said.
TIS Cumbria Ltd is to build a rig hall and manufacturing facility with three 20-tonne overhead cranes in Workington.
The money from economic development organisation BEC will fund an x-ray and digital imaging unit meeting nuclear, oil and gas industry standards.
BEC head of projects David Jones said the "huge grant" was a "record award".
Mr Jones added that TIS was a "real home-grown success story that is clearly going places".
The company specialises in design, fabrication, welding and inspection services for the West Cumbria nuclear industry and is extending to oil and gas projects.
Founder Tony O'Pray said: "It would have taken us another three or four years to initiate without their [BEC's] support so we are very grateful.
"It's good to see them investing in the local economy."
Funded by Sellafield and the Nuclear Decommissioning Authority, BEC supports business development and capital projects in West Cumbria.