Organ donor Rosie Kremer: Award honours eight lives saved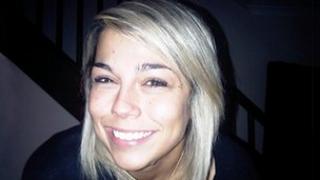 A young woman who died hours after giving birth and whose organs saved eight lives is to be given a posthumous award.
Rosie Kremer died in May 2012 of an undiagnosed brain tumour after giving birth to son Bobby in an emergency Caesarean section.
She was ill throughout her pregnancy and her mother Lesley Kremer claims 23 doctors failed to diagnose her correctly claiming she had an inner ear infection.
The 58-year-old is suing North Cumbria University Hospitals NHS Trust, which manages Cumberland Hospital in Carlisle where Miss Kremer was treated.
The nursery nurse from Penrith - described by her mother as bright and vivacious - had made it clear she wanted to be an organ donor.
Her mother said she would "absolutely" have loved the fact that someone was now "walking around with her heart".
'Took comfort'
She said: "When we realised Rosie was brain-stem dead we said straight away we wanted to donate her organs.
"But the surgeons and clinicians said they didn't want to talk about that yet and were trying to save Rosie.
"But later when it became clear she could not be saved we took comfort from donation.
"Rosie helped save eight people because tissue was also used. The organ team made us feel something really worthwhile was coming out of something really tragic."
Mrs Kremer is to accept an award at St James' Palace in London on behalf of her daughter.
She will be just one of 33 people to receive the posthumous donor honour from the global healthcare charity the Order of St John, and NHS Blood and Transplant.
'Awful shock'
A spokesman for the Order of St John said: "This award has been created for two purposes - to say thank you to families whose loved ones have already donated and to inspire more people to follow in their footsteps and sign up to be an organ donor.
"Around three people die every day due to the shortage of organs and there are 10,000 people in the UK in need of a transplant.
"Having the ability to save and improve people's lives by donating your organs is a wonderful, selfless thing to do and we recognise the need to celebrate this."
Mrs Kramer is urging people to sign up to be organ donors.
"After my husband died we talked about organ donation as a family and we all decided if anything happened to any of us that's what would happen - it was understood.
"It wasn't a difficult conversation.
"My husband had wanted to donate but couldn't because he had had chemotherapy."
The North Cumbria health trust said it could not comment because of the ongoing legal action.
Mrs Kremer said: "I was very aware that Rosie was ill, but no-one seemed to take any notice of me.
"You believe what people tell you and that they know what is wrong, so it was an awful shock when she died and there was this massive tumour.
"Right throughout her pregnancy we had the same diagnosis even when she was being sick and right up until her death."
Mrs Kremer, who is now bringing up her grandson Bobby, added: "We have a memory box for Bobby - the transplant team sent Rosie's handprints and a lock of her hair.
"Hopefully when he is older he will realise she was a lovely, lovely woman who did something important."