Plans to restore Cumbrian reservoir back to nature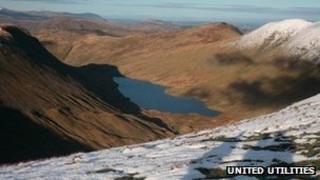 A reservoir which has provided drinking water to people in Cumbria for nearly 100 years is to be restored to its natural state.
Hayeswater, near Hartsop, was dammed in 1908 to provide drinking water to communities around Ullswater.
But in 2005 water supply at the site was stopped and engineers will now work to restore to its natural state.
Water company United Utilities said removing the weir will allow ecological processes to "happen naturally" again.
Steps will be taken to protect Hayeswater's wildlife, which includes a population of brown trout, the company said.
This £700,000 project, which could begin next year, is being planned with the Environment Agency, Natural England and the Lake District National Park Authority.