Northumbria trust Cumbrian hospital takeover delayed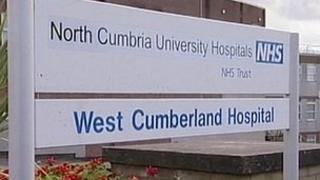 Plans to put two troubled Cumbrian hospitals under the control of a neighbouring trust have been delayed.
North Cumbria University Hospitals Trust was put into special measures after high numbers of death rates were found following the Keogh review.
Northumbria Healthcare NHS Foundation Trust was due to acquire Carlisle's' Cumberland Infirmary and Whitehaven's West Cumberland Hospital on 1 October.
However, improvements set out in the critical review have not yet been met.
The trust said progress was being made but there is still "much to do".
The government's Keogh review was set up after shortcomings led to hundreds of deaths at the Mid Staffordshire NHS Trust.
North Cumbria University Hospitals Trust was one of 11 trusts put into special measures by the NHS Trust Development Authority (TDA) in July.
The trust said the acquisition process can only be completed if all of the actions detailed within the report are delivered and the hospitals are in a stable position.
Chief executive of Northumbria Healthcare NHS Foundation Trust, Jim Mackey, said: "We know it will be disappointing for patients and staff that the acquisition will not take place in October.
"We have been clear, for three years now, about the challenges that exist in North Cumbria and we are confident that the activity planned will not only make North Cumbria's performance stronger, but provide safe services for patients, which is something we will not compromise on."