'Funfair' fears over Brockhole visitor centre plans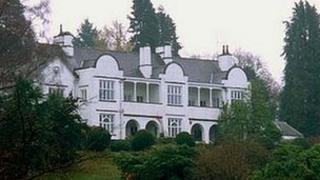 There are fears a Lake District visitor centre could be turned into a "glorified funfair" if a proposed development goes ahead.
The country house at Brockhole, which overlooks Lake Windermere, could become a youth hostel and a watersport centre could be built on its grounds.
The Lake District National Park Authority wants the site to attract more young people to the Lakes.
However, there are concerns the 15-year development would disrupt the area.
Representatives from local businesses and the Bishop of Carlisle were amongst about 100 people who attended a meeting where the plans were revealed on Tuesday.
Local resident Anne Clark said: "We do feel this is just a money-making operation now, and is turning into some sort of glorified fun fair, with lip service paid to the environment and to education."
'Boost economy'
The national park authority wants the site to be a "taster hub" for the rest of the area.
The plans also include restoring the Thomas Mawson designed Arts and Craft garden and creating a space for large events.
Chairman Bill Jefferson said: "It's time to reconnect youth with what we have here, to landscape, and to nature.
"Everything we are doing is to foster that reconnection, and to encourage them to get out and discover for themselves the magic of the national park."
Chris Billinge, chairman of the Brockhole Programme Board, which is developing the plans, said the 15-year scheme would "help raise the profile and boost the economy of the area".
"To achieve this we have been consulting with visitors, businesses and residents to make sure we are preserving the tranquil nature of the place while providing a wide range of activities for people to experience," Mr Billinge said.