Furness General Hospital baby unit should remain, NHS boss says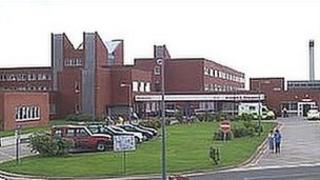 A maternity unit should be retained at a Cumbrian hospital where a number of mothers and babies have died, the head of NHS England has said.
Sir David Nicholson told bosses at Morecambe Bay Hospitals Trust he was opposed to any downgrading of maternity services at Barrow's Furness General.
Several investigations, including a police inquiry, are ongoing after the deaths of nine babies and two mothers.
Sir David said the unit should stay, but added "serious problems" remained.
The trust has highlighted staff shortages and recruitment difficulties in maintaining safe services at the unit.
But following a recent visit to the hospital, Sir David wrote to trust chief executive Jackie Daniel, stressing the need for a consultant-led unit to remain.
'Cohesive relationship'
He said: "It was apparent that midwifery ratios, skill mix and reliance on agency staff were presenting significant problems and have the potential to limit the progress that can be made.
"The culture within the unit still demonstrates a less than cohesive relationship between staff groups and this needs further attention.
"While it is not for NHS England to specify how and where your trust should provide services, I am personally of the view that your strategic planning would be accelerated if your board is able to confirm the future of the Barrow maternity unit as one of the trust's building blocks for the future.
"In my opinion the most important thing the trust needs to do now is listen to the parents who use the maternity service in Barrow and ensure it meets their needs."
A trust spokesman said: "We would thank Sir David Nicholson for his visit to us and his advice and agree with him that we do need to listen to the parents who use our maternity services.
"Staff have made good progress at improving services within its maternity units, but as we have said on many occasions there is still a lot to do."