Sellafield expenses row prompts union call for inquiry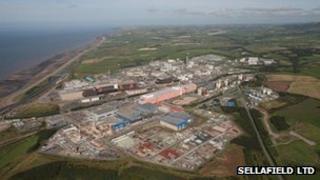 Public money was used by bosses at Sellafield nuclear plant to pay for a "taxi for a cat", an audit found.
Claims by 16 staff seconded to the taxpayer-funded Sellafield Ltd emerged in a Nuclear Decommissioning Authority (NDA) report.
They include £2,795 for a trip to the US Masters golf and a £715 cab journey for an un-named executive "and cat".
The GMB union demanded a ministerial inquiry. Owners NMP accepted a number of expenses were submitted "in error".
The NDA said the audit highlighted "serious deficiencies" in procedures.
'No impropriety'
Copeland's Labour MP Jamie Reed said it was a "sickening abuse of public money" and union bosses have called for an inquiry.
The NDA's audit of Sellafield Ltd and its parent group Nuclear Management Partners (NMP) looked at 606 sample expenses claims submitted between 2008 and 2012, totalling £483,202.
NMP - a consortium representing companies from the US, France and the UK - said "a very small proportion" of expense claims submitted by its staff had been registered to Sellafield Ltd in error.
It added an unspecified number of "incorrect claims" had been repaid and that there was "no evidence or suggestion of impropriety".
NMP staff were seconded from outside of the UK - mainly the USA - to work at the West Cumbria plant when it took control of the Sellafield complex in 2008.
It was awarded a multi billion-pound contract to manage the clean-up operation at the site, which is being carried out by Sellafield Ltd and overseen by the NDA.
The audit report also criticised the use of company credit cards for "home leave flights" by some executives who were on secondment from the US.
'Profound public concern'
Sellafield's Ltd's expenses are ultimately paid using public funds as the company is part-funded via the state-owned NDA, which in turn is responsible for the clean-up of the UK's ageing nuclear sites.
"In all cases where inaccurate claims were identified, repayments have been made," the NDA said in a statement.
But Mr Reed said: "There are genuine questions to be asked about the corporate culture prevalent within NMP when it comes to running the Sellafield site and the use of public money in doing that.
"This is an issue of profound public concern. Taxis for cats and flights to the US Masters paid for by the public purse simply beggars belief."
The claim made for the taxi was to take a director and their cat to an airport for "repatriation" purposes, the NDA said.
Billy Coates, GMB Regional Secretary for Northern Region, said "We want an immediate investigation by the Public Accounts Committee into the use of taxpayer's money on expenses claimed by executives at Sellafield Ltd who are seconded from NMP.
"Privatisation at Sellafield has been a disaster and the NMP contract there must end."
Sellafield Ltd said its executive team was made up of "leading nuclear experts" from around the world and it recognised its expenses guidelines were "complicated and bureaucratic".
A spokesman added: "We are aware that a failure to understand those processes has, in a small number of cases, meant that some claims have been made which should have been made against our parent body organisation, Nuclear Management Partners."
"We have changed the process for managing executive credit card transactions so that, from now, they are automatically claimed from NMP in the first instance.
"We have also provided training for all executive members and their personal assistants, to ensure accurate reporting in the future."
Last week, it emerged executives at NMP had received more than £6m in taxpayer-funded bonuses over the last three years in relation to the Sellafield contract.