North Cumbria NHS pulls high-risk surgery in Whitehaven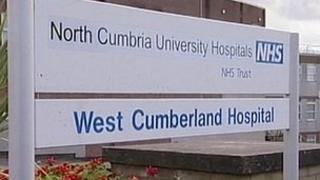 Patients from West Cumbria requiring high-risk surgery will have to travel to Carlisle as a result of changes announced by the local NHS trust.
Complex operations will no longer take place at the West Cumberland Hospital in Whitehaven, the North Cumbria University Hospital Trust said.
The distance between the two hospitals is almost 40 miles.
A spokesman for the Royal College of Nursing (RCN) said the move "made sense in clinical terms".
'Understandably concerned'
Out-of-hours procedures will transfer from Friday with all other high-risk surgery moving to the Cumberland Infirmary in Carlisle from 1 October.
Two or three people each week will travel to Carlisle from West Cumbria for operations such as those linked to appendicitis or broken hips, the trust said.
The RCN spokesman said: "While some members of the local community may be understandably concerned at the added journey time, it is better to have a safe, high-quality service concentrated at a single site, rather than having expertise spread too thinly."
In July, the trust was put into special measures over death rates as part of the Keogh Review set up in the wake set up of shortcomings that led to a higher than expected number of deaths at the Mid Staffordshire NHS Trust.
Dr Jeremy Rushmer, North Cumbria's interim medical director, said centralising high-risk surgery at one site was something that had been considered for "a long time".
"Concentrating complex and high-risk surgery in Carlisle has been widely agreed for some time now and following Keogh it is an absolute clinical priority for us to deliver on these promises.
"All of these sorts of operations were competing for theatre and operative time and it was very hard, spread across two sites, to deliver all of that."