North Stainmore death crash driver made 'judgement error'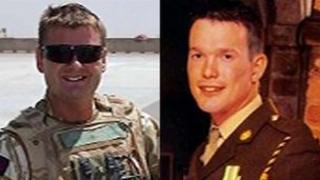 A lorry driver accused of causing a fatal crash in Cumbria said he made an "error of judgement" on a smoky road.
Carlisle Crown Court also heard that driver Colin Pattison said he could not remember if he applied the brake when driving into the smoke on the A66.
Soldiers Jim Austin and David Gartland were in an Army ambulance which struck a broken-down vehicle before Mr Pattison's lorry hit them.
Mr Pattison, 53, denies two counts of causing death by dangerous driving.
The jury has also been asked to consider two alternative charges of causing death by careless driving, which Mr Pattison also denies.
The court was told the smoke from a broken-down lorry reduced visibility to just a few feet minutes before the crash on the A66 near North Stainmore, on 1 September 2011.
'Within speed limit'
Pte Austin, 24, from Catterick, North Yorkshire, and L/Sgt Gartland, 40, from Ashton-under-Lyne, Greater Manchester, were returning to Catterick Garrison when the crash happened. Both men died at the scene.
Tim Evans, prosecuting, said Mr Pattison did not slow down efficiently enough for the conditions when other drivers had slowed down to 5 or 10mph and was driving at an estimated 30-35mph.
Mr Pattison, of Newclose Lane, Goole, East Yorkshire, said: "I thought the speed I was doing was the correct speed, I didn't know how dense the smoke was until I got into it.
"I admit I made an error of judgement on the smoke."
He added that he assumed the smoke was caused by a field fire which he would pass through in seconds before driving back out into sunshine.
In his closing statement, the defence barrister argued that the situation on the A66 had been made dangerous by the broken down lorry and that it was not dangerous driving that had caused the accident.
The barrister added Mr Pattison was travelling well within the speed limit.
The trial continues.