School bus barricade: PCC backs stolen Sessegnon car police action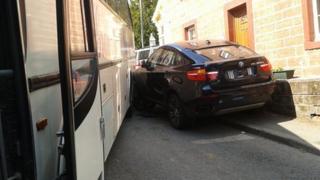 Cumbria Police "acted correctly" in using a school bus to block a speeding stolen car, the force's police and crime commissioner (PCC) has agreed.
The BMW, taken from the home of Premier League footballer Stephane Sessegnon, was driven at 40mph down a crowded street during the Appleby horse fair.
Two people were injured when the vehicle became wedged between the bus and a wall on 8 June.
Officers did not know children were on the bus, PCC Richard Rhodes said.
In June, pedestrians in Battlebarrow had to jump out of the way and a horse had to be put down after the stolen BMW X6 hit the cart it was pulling.
It emerged Cumbria Police had asked the bus driver to position his vehicle across a road to help them stop it.
Mr Rhodes asked for a report after parents of some of the 30 children on board raised concerns about the decision.
The report stated: "The outcome of the incident - the pursuit terminated, driver arrested and only two people being injured - suggests that the police officers involved did act correctly and proportionately and achieved a positive outcome."
The PCC said school times could be changed during future horse fairs to help keep children safe.
Steven Quinn, 32, of Gretna Road, Carlisle, was jailed for 25 months after admitting charges of dangerous driving, driving without a licence and with no insurance, and handling the car knowing it had been stolen.
It was taken during a raid at Stephane Sessegnon's home in Ponteland several weeks earlier.
The 29-year-old footballer joined West Bromwich Albion from Sunderland on Monday.