North Stainmore death crash 'due to poor visibility in smoke'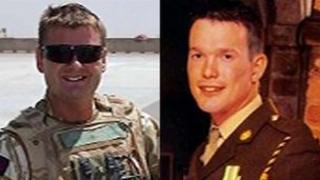 Smoke from a broken-down lorry left a driver accused of causing a fatal crash feeling unable to see, a court heard.
Colin Pattison said the density of the smoke left him feeling like he had a bag over his head, before the crash in Cumbria, Carlisle Crown Court head.
Soldiers Jim Austin and David Gartland died when their Army ambulance struck the broken-down vehicle before Mr Pattison's lorry hit the ambulance.
Mr Pattison, 53, denies two counts of causing death by dangerous driving.
The court was told the smoke reduced visibility to just a few feet minutes before the crash, on 1 September 2011.
'Driving too quickly'
Pte Austin, 24, from Catterick, North Yorkshire, and L/Sgt Gartland, 40, from Ashton-under-Lyne, Greater Manchester, were returning to Catterick Garrison when the crash happened.
Tim Evans, prosecuting, described how the first lorry lorry broke down on the eastbound carriageway of the A66 near North Stainmore.
He said it began spewing out white smoke which was so thick other witnesses described how visibility quickly reduced to only a few feet.
The court heard the Land Rover carrying the two soldiers hit the HGV and, moments later, the lorry driven by Mr Pattison, of Newclose Lane, Goole, East Yorkshire, went into the back of it.
The prosecution alleges Mr Pattison was driving too quickly for the conditions at 30mph, especially as he had described the smoke as like having a bag pulled over his head.
The trial continues.