Cumbria police chief Stuart Hyde to return after being "re-suspended"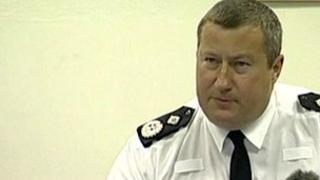 A police chief is to return to work for Cumbria Police less than a week after he was "re-suspended".
Last week, it emerged that temporary chief constable Stuart Hyde had been re-suspended while a probe into gross misconduct allegations continued.
But it has now been confirmed he will return to his old role as deputy chief after agreeing to retire in December.
Cumbria Police Crime Commissioner (PCC) Richard Rhodes said last week he wanted to ask Mr Hyde to retire.
Mr Hyde was originally suspended as the temporary chief constable in September 2012 over complaints about his management style.
The Independent Police Complaints Commission (IPCC) cleared him of the allegations in October 2012.
Bernard Lawson, the current temporary chief constable, invited Mr Hyde back to work - with the PCC's approval.
'Difficult time'
Mr Rhodes said: "I fully support the decision of Mr Lawson to invite Mr Hyde back to Cumbria Constabulary as his deputy until Mr Hyde's retirement in December.
"As Police and Crime Commissioner, my position on the events of the last few months is clearly outlined in detail in the various documents - my position remains unchanged.
"I have nothing to add."
Mr Lawson said: "This has been a difficult time for all concerned and I would like to pay tribute to the patience and understanding shown by the constabulary's workforce during this time, and also to the public of Cumbria, who I know simply want us to focus on keeping the county as safe and as free from crime as possible."