Workington's £9m leisure centre plans unveiled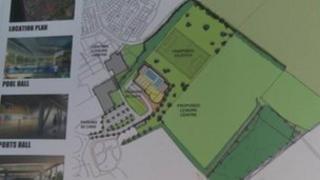 Plans have been unveiled for a new £9m swimming pool and leisure centre in Cumbria.
The new facility will replace the existing leisure centre on Moorclose, Workington.
A public consultation is now under way for people to give their views on each of the three proposed schemes and sites.
Allerdale Borough Council said the existing centre was "out of date" and "expensive" to run.
Potential options for the development include a swimming pool and leisure centre at the existing site or a swimming pool, leisure centre and family entertainment complex at Brow Top in the town centre.
Council leader Alan Smith said: "This is one of the most important developments in the town for many years.
"Workington Leisure Centre was built around 40 years ago - it is out of date, expensive to run, with poor energy efficiency and a limited lifespan.
"The new swimming pool and leisure centre will be far more cost effective and contain facilities the community has told us it wants."
The development is being funded by council borrowing and asset sales.
The public consultation runs until September and the centre is expected to open in 2015.